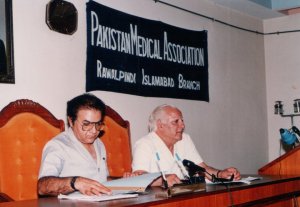 Dr. Ayub Mirza obituary
By: Pervez Fateh
Veteran physian, progressive writer and renowned revolutionary politician Dr Ayub Mirza breathed his last today.
He was born in a lower middle class family of Mirpur, Azad Kashmir on 21 May 1929. His father, Fazal Elahi Mirza, was an educated and respectable person in his locality. Dr Mirza had his first taste of politics while he was a student in Rawalpindi. He worked in close comradeship with the prominent Marxist politicians like Abid Minto, and Dr Haroon Rashid in establishing Democratic Students Federation (DSF) and was elected its General Secretary. The student unrest of 1950s resulted in landing Dr Mirza to the jail where he remained confined for no less than a year. While still a student, he joined the Comminist Party of Pakistan and remained committed to it until it was banned in 1953/54.
He graduated in medicines and started medical practice in late 1950's. He came to the UK for higher education and qualified as paediatric consultant. Faiz Ahmed Faiz, the most eminent progressive poet of Pakistan, on way to Moscow to receive Lenin Peace Prize, visited Dr Ayub Mirza in London and requested him to return home and actively participate in the politics of Pakistan.
Dr Ayub Mirza came back to Pakistan in 1964 and formed Pak-Chine Friendship Association. He was elected its first president and served on this position until 1980. He joined the National Awami Party and worked closely with the peasant wing particularly with Major Ishaq Mohammad, Chaudrahy Fateh Mohammad, Ghulam Nabi Kaloo, Afzal Bhangish and others.
He pioneered in the foundation of Pakistan Medical Association and was elected its first president in 1968.
Dr Ayub Mirza had also been a member Pakistan Film Sensor Board during 1989-1992.
"Hum Key Theray Ajnabi", Dada Amir Hyder's biography (in Urdu), a collection of Urdu verse, "Lahoo Main Dhanak", "Faiz Nama" , a 600 pages book which was also published in India, and his autobiography "Bergay Jahan Deeda" are a few publications to his credit.
Today, on Sunday, the 15th of August 2010 at 9.15am at Western Infirmary Hospital Glasgow (UK), Dr Ayub Mriza left this world leaving behind his children, grandchildren, and tens of thousands of his friends and comrades, patients and well-wishers to mourn his death.
He lived a long and happy married life. He had 2 sons Dr Amjad Ayub Mirza, Sarmed Mirza a daughter Dr Alina Mirza a wife and 6 grand children.
His namaz-e-janaza will be on after zohar on Tuesday, the 17th.
For further info please contact Dy Amjad Ayub Mirza at +44 (0) 7909495565.
South Asian Peoples Forum UK red salutes for his life long compaign for the rights of suppressed people.